Company Earns Gold for Favorite Learning Management System, Course Management System, or E-Learning Platform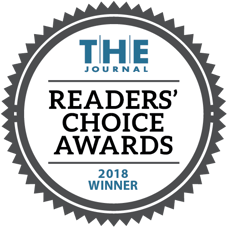 Nov 9, 2018 – MobyMax, the most acclaim ededtech platform in the U.S., has won a gold medal in THE Journal Readers' Choice Awards competition for Favorite Learning Management System, Course Management System, or E-Learning Platform category. The gold medal win adds to the silver and platinum awards MobyMax garnered in 2017 in the Favorite Interventions & Remediation Software category and Favorite Adaptive/Personalized Learning Tool category.
"We've been tracking the effectiveness of the Mobymax e-learning platform among 4,000 students in 230 classrooms using it," said company co-founder Glynn Willett. "Data analysis shows that students using MobyMax Math make 53% more progress than those who don't."
The awards were determined via an online poll of over 1,000 education professionals, and Willett adds, "We're thrilled to have our results additionally validated by the teachers and school administrators who use our platforms every day of the school year."
Teachers who use MobyMax find it effective for many reasons, but Karen Townsend, a Special Education Instructional Specialist at Yerger Middle School in Hope, Arkansas, says she specifically values MobyMax because "I don't have to create several different lesson plans to target the different levels and abilities of my students." Adds Temeka Hardman-Seamster, RTI Coach in Caddo Parish in Louisiana, "MobyMax is an excellent choice if you wish to help your struggling learners, yet still provide enrichment for your higher-achieving students."
"We saw our students gain half a grade level of improvement in language and grammar across a one-month time period," he reports, which is a testimony to the Mobymax e-learning platform.
According to THE Journal, "THE Readers' Choice Awards poll education technology professionals on their favorite technologies, from instructional technology to security and privacy tools, from mobile devices to projectors, from games to multimedia authoring tools."
"In all, 1,109 classroom teachers, IT leaders and staff, administrators, instructional technologists, library and media professionals and other school and district staff voted for their favorite brands and products." Nagle said that "hundreds of products" were nominated in dozens of categories this year, which makes the accolades MobyMax received particularly noteworthy.
In addition to the Readers' Choice Awards, MobyMax has recently received a record 14 Education Software Review Awards (EDDIES), the CODiE award for Best Pre-K/Early Childhood Learning Solution in 2018, as well as the 2018 Tech Edvocate Award for Best Global EdTech Company. These are just a few of the 58 awards MobyMax has won in the last two years.
For more information, visit http://www.mobymax.com.
About MobyMax
MobyMax helps struggling learners quickly catch up to grade level and closes learning gaps for all students.
Moby Learning, Moby Assessments, Moby Interactive, and Moby Rewards are all award-winning solutions individually. When combined together in Moby Suite, they create the most effective solution to find and fix learning gaps.
About THE Journal
THE Journal is the premier resource for K-12 senior-level district and school administrators, IT administration and instructional technologists who make decisions and influence technology purchases for their districts, schools and classrooms. For more information, visit www.thejournal.com.