Recognized for Closing Years of Skill Gaps in Critical Areas
Oct 17, 2018 – MobyMax's proprietary system for helping struggling students master reading and language arts has been recognized with ComputED Gazette EDDIE Awards for Best Language Arts Software and Best Early Reading Website. These awards "target innovative and content-rich programs and websites that provide parents and teachers with the technology to foster educational excellence."
The MobyMax Language Arts system finds and fixes missing essential language and grammar skills. Its comprehensive curriculum encompasses 16 ELA subjects, including reading, language, vocabulary, grammar, spelling, alphabet, phonics, and early reading. Independent research analysis of 4,000 students using MobyMax in 230 U.S. classrooms showed students gained one grade level after using MobyMax Language for only 30 minutes per week.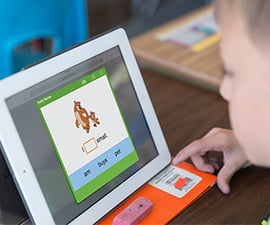 The Early Reading Website Award acknowledges the comprehensive suite of tools MobyMax has created for students and teachers online. The MobyMax early reading solution includes modules for early words, early stories, and early writing, as well as alphabet letters and sounds, phonics and spelling, Dolch and Fry sight words, and foundational reading.
The EDDIE Awards for reading and language arts are two of the 14 total
MobyMax received from ComputED Gazette
in 2018. The company has been honored by dozens of other awards recently, including Best Early Learning Reading Website and Best Multi-Level Reading & Language Arts Website in the 24th annual BESSIE Awards. MobyMax also received the CODiE award for Best Pre-K/Early Childhood Learning Solution in 2018, as well as the 2018 Tech Edvocate Award for Best Global EdTech Company. These are just a few of the 57 awards MobyMax has won in the last two years.
"Putting students on solid academic footing in their first years in school is key to their learning success and advancement," said MobyMax co-founder Glynn Willett. "It is wonderful to receive these awards for our work, but we're even more gratified to see what a significant difference our suite of tools makes to students at such an early age."
For more information, visit http://www.mobymax.com.
About MobyMax
MobyMax helps struggling learners quickly catch up to grade level and closes learning gaps for all students.
Moby Learning, Moby Assessments, Moby Interactive, and Moby Rewards are all award-winning solutions individually. When combined together in Moby Suite, they create the most effective solution to find and fix learning gaps.
MobyMax has been recognized with a record 47 education software awards in 2018, including:
The CODiE award for Best Pre-K/Early Childhood Learning Solution
EdTech Digest's Best e-Learning, Blended, or Flipped Solution Award
The 2018 Tech Edvocate Award for Best Global EdTech Company
The 2018 Teachers' Choice Award for the Classroom by Learning Magazine.
About Computed Gazette
The ComputED Gazette is the sponsor of two national awards: The Best Educational Software Awards (BESSIES) in the spring, and the Education Software Review Awards (EDDIES) in the summer. Its directors are educators who provide computer education to children and adults in California. Eddie winners are selected from titles submitted by publishers worldwide. Selection criteria include academic content, potential for broad classroom use, technical merit, subject approach, and management system.