Aug 26, 2019 - MobyMax, the 2018 Tech Edvocate Award Winner for Best Global EdTech Company and Best Assessment Tool, has been recognized as a 2019 Tech Edvocate Award finalist in 13 categories.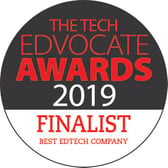 The 13 categories include:
Best Early Childhood Education App or Tool
Best Assessment Tool or App
Best Math App or Tool
Best Personalized/Adaptive Learning App or Tool
Best Blended/Flipped Learning App or Tool
Best Literacy App or Tool
Best STEM/STEAM Education App or Tool
Best Gamification App or Tool
Best Tutoring/Test Prep App or Tool
Best Learning Analytics /Data Mining App or Tool
Best Classroom/Behavior Management App or Tool
Best Global EdTech Leader
Best Global EdTech Company
"It is gratifying to be recognized by edtech thought leaders, college professors and administrators, and parents, teachers, and administrators from across the PreK-12 spectrum," said MobyMax co-founder Glynn Willett. "Our innovations will continue, as will our commitment to creating edtech tools that accelerate student learning both in the classroom and wherever students are online."
MobyMax is the first and only unified edtech platform encompassing all curriculum subjects (the equivalent of 156 textbooks) as well as all assessment types (diagnostic, formative, benchmark/interim, and summative). MobyMax has also been lauded for its interactive classroom tools and motivation solutions.
Known in the edtech world as an innovation engine, MobyMax unveiled two new gaming features in 2019 that have become particularly in demand. In Fluency Team Games, students practice critical math, language, and foundational reading skills by quickly answering randomized questions. Students earn points for each question they answer correctly. The faster they answer, the more points they earn for their team. In Fluency Board Games, teachers select the skills they want students to practice, and students select a board game piece with which to play. Students compete against the computer as they answer skill questions and move around the game board. Lest teachers worry about learning how to best leverage MobyMax on their own, the company has also created a "Continuous Coaching" service to provide up to 25 hours of training, mentoring, and motivation.
"Our mission is to make the lives of teachers and administrators easier by creating the best education solution on the planet," said Willett. "We save teachers critical instructional minutes while making our unique suite of curriculum and assessments affordable for every school. And we benefit students by enabling them to identify and fix skills gaps so they can learn twice as fast, with many students progressing the equivalent of one entire grade level after only 20 hours of use in Moby."
The 2019 Tech Edvocate Awards are presented to the year's top edtech companies, products, people, and more. The finalists were selected by a panel of edtech thought leaders, PreK-12 teachers, college professors, K-12 administrators, college administrators, and PreK-12 parents.
Winners will be announced on August 30, 2019 at https://www.theedadvocate.org.
About MobyMax
MobyMax helps struggling learners quickly catch up to grade level and closes learning gaps for all students.
Moby Learning, Moby Assessments, Moby Interactive, and Moby Rewards are all award-winning solutions individually. When combined together in Moby Suite, they create the most effective solution to find and fix learning gaps.
For more information, visit http://www.mobymax.com.
About The Edvocate
The Edvocate was created in 2014 to advocate for shifts in education policy and organization in order to enhance the quality of education and the opportunities for learning afforded to P-20 students in America. The Edvocate prides itself on its unconventional approach and ideas, as well as its commitment to a comprehensive reorganization of American's P-20 system.
The 2019 Tech Edvocate Awards Finalist announcement can be found at https://www.theedadvocate.org/announcing-the-finalists-of-the-2019-tech-edvocate-awards/