August 26, 2020 – MobyMax, the most widely acclaimed differentiated learning solution in the U.S., has been recognized as a 2020 Tech Edvocate Award finalist in 12 categories, including Best Global EdTech Company.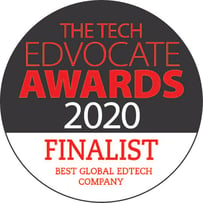 The award nominations come amidst widespread acclaim for the extensive digital tools MobyMax made available to teachers who had to unexpectedly switch to online learning in March. Educators continue to report that Moby's unparalleled comprehensive platform helped their students complete the school year at or above grade level by providing a proven digital curriculum that can be used from any device with an internet connection. The curriculum is comprised of 27 subjects including math, reading, phonics, language, vocabulary, spelling, writing, science, and social studies, and state test prep.
MobyMax has continued to innovate and expand beyond its flagship differentiated learning platform. Fluency Team Games and Fluency Board games raised the Moby experience a significant notch by enabling students to practice and learn in a hyper-competitive, fast-paced environment as they rack up coins, points, and bragging rights. Moby has also offered its entire Assessments package, "Quick Checker", for free to all teachers worldwide since January 2020. This tool helps educators gauge student understanding using a wide variety of assessment and diagnostic tools.
"Education is at an unforeseen inflection point," said MobyMax co-founder Glynn Willett. "Fortunately, MobyMax is ten steps ahead. Teachers who had to pivot overnight to online learning didn't miss a beat if they were using our assessment, diagnostic, blended learning, and gamified teaching tools. Given the unpredictability the 2020-2021 school year presents, we expect our tools to continue to provide an educational lifeline for teachers, parents, and students alike."
The Tech Edvocate Awards honor the "best that edtech has to offer" by recognizing outstanding companies, people, and products. In 2019, MobyMax won the awards for Best Global EdTech Company, Best Global EdTech Leader, Best Assessment App or Tool, and Best Gamification APP or Tool.
This year, MobyMax is a finalist in the following 12 award categories:
Best Assessment App or Tool

Best Early Childhood Education App or Tool

Best Literacy App or Tool

Best Math App or Tool

Best STEM/STEAM Education App or Tool

Best Personalized/Adaptive Learning App or Tool

Best Gamification App or Tool

Best Blended/Flipped Learning App or Tool

Best Tutoring/Test Prep App or Tool

Best Learning Analytics/Data Mining App or Tool

Best Global EdTech Leader

Best Global EdTech Company
The finalists for the 2020 Tech Edvocate Awards were selected by a panel of edtech thought leaders, PreK-12 teachers, college professors, K-12 administrators, college administrators, and PreK-12 parents. Winners will be announced on August 31, 2020 at https://www.theedadvocate.org.
About MobyMax
MobyMax helps struggling learners quickly catch up to grade level by finding and fixing missing skills. Differentiated Learning, Quick Checker, Interactive Class, and Real Rewards are all award-winning solutions individually, and when combined in MobyMax, they provide everything a teacher needs to effectively close learning gaps.
For more information, visit http://www.mobymax.com.
About The Edvocate
The Edvocate was created in 2014 to advocate for shifts in education policy and organization in order to enhance the quality of education and the opportunities for learning afforded to P-20 students in America. The Edvocate prides itself on its unconventional approach and ideas, as well as its commitment to a comprehensive reorganization of American's P-20 system.
The 2020 Tech Edvocate Awards Finalist announcement can be found at https://www.theedadvocate.org/finalists-and-winners-of-the-2020-tech-edvocate-awards/