March 12, 2020 - MobyMax, the most widely acclaimed differentiated learning solution in the U.S., has been named one of the "EDTECH 1000" for 2020-2021 by EdTech Digest. The honor is reserved for the "top EdTech companies transforming education."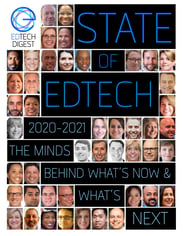 Victor Rivero, editor in chief of EdTech Digest and the "State of EdTEch" report, described the companies included among the EDTECH 1000 as being "leading-edge, trendsetting innovators" comprised of "stellar teams" and characterized by a "determination to make a difference for learners and leaders everywhere."
Rivero also called the EDTECH 1000 "transformative companies that are most determined to put learners first."
"We're gratified to be recognized for the edtech products we're creating to meet the needs of students at every level and the teachers who teach them," said MobyMax co-founder Glynn Willett. "We will continue to create the most innovative, effective, exciting, and engaging edtech solutions for K-8 students across the U.S."
MobyMax was also named one of the "EDTECH 1000 – Companies Transforming Education" in 2019-2020. Since 2019, MobyMax has received 66 awards recognizing the effectiveness of its innovative edtech software solutions.
A copy of the complete State of EdTech 2020-2021 report is available for download here.
About MobyMax
MobyMax helps struggling learners quickly catch up to grade level and closes learning gaps for all students. Moby Learning, Moby Quick Checker, Moby Interactive, and Moby Rewards are all award-winning components of MobyMax, creating the most effective solution to find and fix learning gaps.
For more information, visit http://www.mobymax.com.