Company Garners 59 Total Awards Since January 2017, Including "Best Global Ed Tech Company"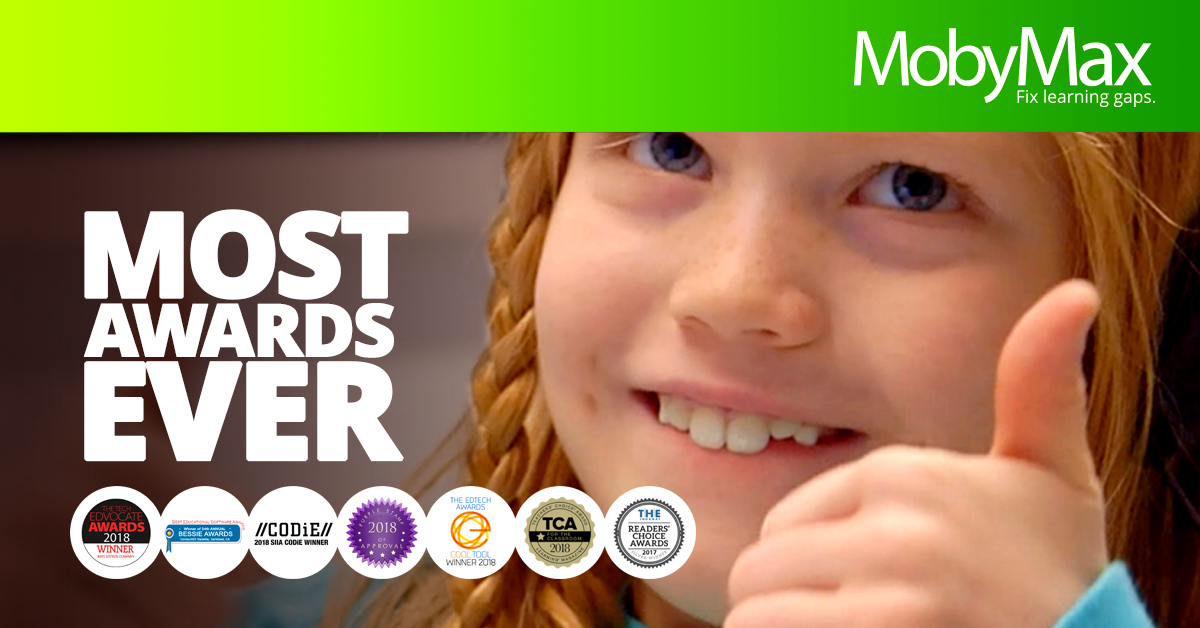 MobyMax's innovative development platform, comprehensive learning management solutions, and complete curriculum system (CCS) have propelled the company to a record 49 award wins in 2018. The company has won 59 total awards since January 2017, dwarfing its nearest competitors in the education industry.
Among the most impressive awards bestowed on MobyMax are:
The 2018 EdTech Digest Award for Best e-Learning, Blended, or Flipped Solution
The 2018 SIIA CODiE award for Best Pre-K/Early Childhood Learning Solution, an award MobyMax has won two years in a row
The 2018 Teachers' Choice Award for the Classroom
The Gold Award in the THE Journal 2018 Readers' Choice Awards for Favorite Learning Management System, Course Management System, or E-Learning Platform category
The 2018 Tech Edvocate Award for Best Global EdTech Company

MobyMax co-founder Glynn Willett credits his company's success to its "radically inexpensive price" and the fact that "MobyMax is twenty times more comprehensive" than the competition. "We have created a seamless platform for curriculum, motivation, assessments, and, soon to come, teacher training and effectiveness," he says.
Moby Suite, which launched in 2018, has also amplified MobyMax's popularity. The Suite encompasses over 60 subjects (the equivalent of 156 adaptive textbooks!), assessments, and practice modules, and a sophisticated learning management system, along with the most motivating rewards program on the market.
Willett says that though MobyMax offers many unique product offerings, "our chief competitive advantage is our high-quality, research-proven curriculum and learning systems, available to schools at a fraction of the price of other systems." Additionally, MobyMax is unique in the guarantee of success it offers.
MobyMax's use of research to guide its development also sets it apart. In the first quarter of 2018, MobyMax conducted a large-scale experimental study with 4,000 students in 230 U.S. classrooms. The study showed that students who spent just 20 hours using MobyMax increased a full grade level more than students in the same classroom who did not use MobyMax.
Continuing to evolve and innovate to meet both student and teacher needs is the key to Moby's accelerating growth, notes Willett. "We've already integrated curriculum, assessments, practice, and motivation," he explains. "In the coming year, we will release Ready-to-Teach Lessons for teacher instruction and Practice Games, integrating them into the Moby Suite of product offerings."
"2018 was a banner year for MobyMax," says Willett. "We really look forward to what 2019 will bring!"
About MobyMax
MobyMax helps struggling learners quickly catch up to grade level and closes learning gaps for all students.
Moby Learning, Moby Assessments, Moby Interactive, and Moby Rewards are all award-winning solutions individually. When combined together in Moby Suite, they create the most effective solution to find and fix learning gaps.