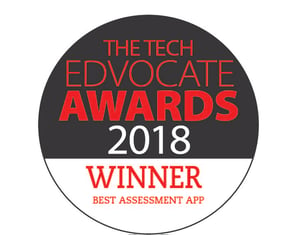 Sept 4, 2018 - MobyMax, the most acclaimed differentiated learning solution in the U.S., has been awarded the 2018 Tech Edvocate Award for Best Assessment Tool or App.
MobyMax was also honored as the Best Global EdTech Company and was an award finalist in seven additional categories: Best Early Childhood Education App or Tool, Best Math App or Tool, Best Personalized/Adaptive Learning App or Tool, Best Blended/Flipped Learning App or Tool, Best Literacy App or Tool, Best STEM/STEAM Education App or Tool, and Best Classroom/Behavior Management App or Tool.
Noting that MobyMax has received a record 43 awards in the past two years, co-founder Glynn Willett credited the company's success to its unique approach to product development. "Every MobyMax product is rooted in teacher feedback, which we integrate into both the curriculum and the tools we design for teachers to use in the classroom. Monitoring student performance as closely as we do has also enabled us to tweak content and modules to maximize student proficiency and success – the two measures by which we judge every service we provide and every tool we create."
"We are thrilled that MobyMax was recognized not only as the Best Global EdTech company, but also the Best Assessment Tool or App. Moby Assessments provides a suite of summative benchmark tests, formative skill checker tests, and adaptive diagnostic placement tests for both math and ELA. This makes pinpointing missing skills, measuring performance of all standards, and monitoring student progress simple."
The 2018 Tech Edvocate Awards are presented to the year's top edtech companies, products, people, and more. The finalists and winners were selected by a panel of edtech thought leaders, PreK-12 teachers, college professors, K-12 administrators, college administrators, and PreK-12 parents.
About MobyMax
MobyMax helps struggling learners quickly catch up to grade level and closes learning gaps for all students.
Moby Learning, Moby Assessments, Moby Interactive, and Moby Rewards are all award-winning solutions individually. When combined together in Moby Suite, they create the most effective solution to find and fix learning gaps.
MobyMax won 10 education awards in 2017, including the prestigious CODiE award for best education cloud-based solution. The company has already garnered 33 awards in 2018, including:
The CODiE award for best pre-k/early childhood learning solution

EdTech Digest's best e-learning, blended, or flipped solution award

The 2018 Teachers' Choice Award for the Classroom by Learning Magazine.
About The Edvocate
The Edvocate was created in 2014 to advocate for shifts in education policy and organization in order to enhance the quality of education and the opportunities for learning afforded to P-20 students in America. The Edvocate prides itself on its unconventional approach and ideas, as well as its commitment to a comprehensive reorganization of American's P-20 system.