MobyMax has earned a total of 64 awards in 2020 and 179 awards total since 2018 for its groundbreaking K-12 education technology products.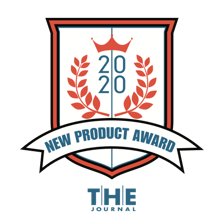 Dec 3, 2020- MobyMax, the most widely acclaimed differentiated learning solution in the US, has won four of THE Journal's first-ever New Product Awards. The awards honor the outstanding product development achievements of manufacturers and suppliers whose products or services are considered to be particularly noteworthy in the transformation of education technology.
MobyMax's innovative development platform, comprehensive learning management solutions, and complete curriculum system have propelled the company to earn more industry awards than any other edtech provider three years in a row. Since 2018, the total education industry awards won amount to 179.
MobyMax was recognized as a winner by THE Journal in the following categories:
Educational Game or Gamified Learning Tool (Gold)

Intervention & Remediation Software (Platinum)

Formative Assessment (Platinum)

Summative Assessment (Platinum)
"No student should have to struggle to get to grade level and stay there or move beyond," said MobyMax co-founder Glynn Willett. "With our winning assessment and intervention tools and our unique approaching to gamifying learning, they no longer have to."
Moby's gamified learning tool is a gamification app called Fluency Games. It allows students to practice and learn in a hyper competitive, fast-paced environment as they rack up coins, points, and bragging rights. While students improve critical math, language, and foundational reading skills, teachers can use the app to create games that motivate students to compete and achieve.
Moby's intervention and remediation software enables teachers to create individualized education plans (IEPs) for students at any level. It also helps teachers and students find and fix learning gaps in all K-8 subjects. "This differentiated learning/blended learning approach is the epitome of adaptive technology," says Willett. "It's why it's possible for students to learn twice as fast with MobyMax."
Moby's proprietary assessments package, known as Quick Checker, enables teachers to get an instant snapshot of where students are and what help they need. It streamlines and improves day-to-day teaching by pinpointing missing skills with quick formative assessments, deep summative assessments, and diagnostic placement tests.
Schools and teachers registered with MobyMax can access any and all of these tools, which is exactly what is happening in this era of increased online learning.
"Perhaps more than ever, 2020 has been a year defined by the use of technology in education. We're pleased to recognize these products that are making a difference for students, teachers and administrators alike. Congratulations to all our New Product Award winners," said David Nagel, editor-in-chief of THE Journal.
About MobyMax
MobyMax helps struggling learners quickly catch up to grade level by finding and fixing missing skills. Differentiated Learning, Quick Checker, Interactive Class, and Real Rewards are all award-winning solutions individually, and when combined in MobyMax, they provide everything a teacher needs to effectively close learning gaps.
For more information, visit http://www.mobymax.com.
About THE Journal
THE Journal is dedicated to informing and educating K-12 senior-level district and school administrators, technologists, and tech-savvy educators within districts, schools, and classrooms to improve and advance the learning process through the use of technology. Launched in 1972, THE Journal was the first magazine to cover education technology.
The 2020 The Journal New Products Awards Winners announcement can be found at https://thejournal.com/articles/2020/12/01/the-journal-2020-new-product-award-winners.aspx