June 12, 2019 - MobyMax, the most acclaimed differentiated learning solution in the U.S., has been awarded two 2019 EdTech Breakthrough Awards: Best Overall Early Childhood Education Solution Provider of the Year and Test Prep Solution Provider of the Year.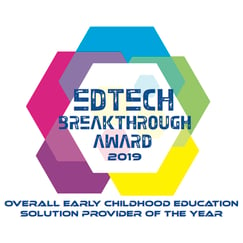 The EdTech Breakthrough Awards recognize the top technology companies, solutions and products in the education industry. Unlike many other awards in which companies pay a submission fee to ensure their consideration, the EdTech Breakthrough Awards are free and open to all providers. With over 1,500 nominations worldwide in 2019, the competition was fierce, making this particular award so significant.
"We're gratified to be singled out for excellence in the field of education technology," said MobyMax co-founder Glynn Willett, "especially compared to so many national and global companies."
This is not the first time that the MobyMax Early Childhood Differentiated Learning solution has received national recognition. In 2018, it was recognized for the second year in a row with the SIIA CODiE Award for "Best PreK/Early Childhood Learning Solution" in the world.
"Our mission is to make the lives of teachers and administrators easier by creating the best education solution on the planet," said Willett. "We save teachers critical instructional minutes while making our unique suite of curriculum and assessments affordable for every school. And we benefit students by enabling them to identify and fix skills gaps so they can learn twice as fast, with many students progressing the equivalent of one entire grade level after only 20 hours of use in Moby."
Moby's Test Prep Solution was deemed a standout in light of the increasingly important role testing is playing in gauging student success. Though other companies offer test prep, Moby alone starts working BEFORE students face state tests. The solution includes everything from differentiated learning, and assessments to competitive fluency games and fun contests with rewards for students and teachers.
"The MobyMax Adaptive Test Prep module provides an easy but effective way for teachers to prepare their students for state tests," explains Willett. "Unlike all other test prep products on the market, Moby reviews key skills efficiently to give students the refresher they need, then creates engagement by advancing students quickly through topics they already know. When students struggle, Moby assigns "Teach Me" lessons and additional lesson topics."
Moby's Benchmarker tool, introduced in 2018, has been a particularly valuable test prep aide.
Benchmarker accurately measures performance for all standards within a grade level, giving teachers an accurate view of students' growth. Easy-to-use reports track student progress toward mastery of grade-level standards. Reporting is comprehensive and is generated from a 45-minute or 90-minute test that covers all standards within a grade level. Teachers can view progress for individual students or the entire class, getting a complete picture from a single report. Benchmarker modules include Math, Language, Foundational Reading, Reading Skills Literature, Reading Skills Informational, and Reading Level.
"We use Moby Benchmarker two months before state testing begins to identify exactly what skills students are missing," said Christopher Goodshall, a 4th and 5th grade teacher in Mckitrick Elementary in Lutz, FL. "This gives us exact data on what skills we need to remediate, which we do in small groups. Without Moby Benchmarker and the company's other test prep tools, our students would not have been nearly as successful." In 2018, students at McKitrick Elementary students answered more than 2.6 million questions and completed 21,000 lessons in MobyMax.
MobyMax's innovative development platform, comprehensive learning management solutions, and complete curriculum system (CCS) have propelled the company to earn more education industry awards than any other edtech provider two years in a row.
For more information, visit http://www.mobymax.com.
About MobyMax
MobyMax helps struggling learners quickly catch up to grade level and closes learning gaps for all students.
Moby Learning, Moby Assessments, Moby Interactive, and Moby Rewards are all award-winning solutions individually. When combined together in Moby Suite, they create the most effective solution to find and fix learning gaps.
About EdTech Breakthrough Awards
EdTech Breakthrough is part of the Tech Breakthrough Awards organization, which recognizes the industry leaders in today's hottest categories of technology. Our organization has worked with companies that include Intel, Cisco, Sprint, HP, Comcast, Philips, Dell and many more, providing a public platform for recognition for standout technologies and companies.
For more information about The EdTech Breakthrough Awards, visit https://edtechbreakthrough.com/