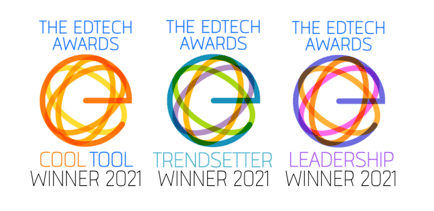 April 5, 2021 - MobyMax, the most widely acclaimed differentiated learning solution in the U.S., has been awarded the 2021 EdTech Awards for Best E-learning, Blended, or Flipped Solution and Best Product or Service Setting a Trend.
The EdTech Awards are presented annually to the most exceptional innovators, leaders, and trendsetters in education technology. Award finalists and winners are selected from thousands of entries made by educators who use technology to enhance, improve, and transform their everyday instruction.
"We're thrilled to be recognized as a "trend setter" for the innovations we've pioneered in in-class and online learning solutions," said MobyMax co-founder Wade Willett. "We know that e-learning, blended, and flipped solutions will continue to be the bedrock of K-8 education. To that end, MobyMax will continue to innovate to ensure that teachers and students not just succeed but exceed their potential." Notably, Willett was a finalist in two EdTech Leadership Award categories in 2021.
In 2020, when MobyMax won EdTech's awards for Best Early Learning Solution and Best Skills Solution, Victor Rivero, Editor-in-Chief of EdTech Digest and program manager of the EdTech Awards, said "We've been in classrooms and witnessed first-hand the practicality and workability of MobyMax solutions. Children are the winners here, and they are all-in with their very obviously engaging curriculum solutions."
The 2021 awards took into account the extraordinary steps taken by edtech companies like MobyMax to help students and teachers pivot to online learning to ensure that learning at all levels could continue.
"Trying times revealed strengths and capabilities of people, and workability of products," Rivero said of the 2021 award winners. "Leaders and innovators with their tools and techniques worked hard to keep the learning world connected to knowledge and each other…we salute you."
In addition to winning the Best E-learning, Blended, or Flipped Solution and Best Product or Service Setting a Trend awards, MobyMax was a finalist in a remarkable 16 total categories:
Cool Tool Awards
E-learning, Blended, or Flipped Solution
Adaptive Technology Solution
Curriculum and Instruction Solution
Math Solution
Parent/Student Solution
Personalized Learning Solution
Product or Service (general)
Science Solution
Special Needs/Assistive Technology Solution
STEM (Science, Tech, Engineering, Math) Solution
Test Prep Solution
Best Multi-Subject Skills Website for Remote Learning (K-8)
The EdTech Leadership Awards
Founder(s) / CEO – Wade Willett
National (U.S.) Leader – Wade Willett
Global leader – Glynn Willett
The EdTech Trendsetter Awards
EdTech Product or Service Setting a Trend
MobyMax has been the most awarded edtech company since 2018, racking up 196 industry awards in three years, including the prestigious 2020 CODiE award for Best Use of Emerging Technology for Learning in Education, the 2020 EdTech Award for Best Early Learning Solution, and the 2020 Tech Edvocate Award for Best Global EdTech Company. The four solutions included in Moby — Differentiated Learning, Quick Checker, Interactive Class, and Moby Engagement —have received over 10,000 rave reviews.
About MobyMax
MobyMax helps struggling learners quickly catch up to grade level and closes learning gaps for all students. Moby Learning, Moby Quick Checker, Moby Interactive, and Moby Engagement are all award-winning components of MobyMax, creating the most effective solution to find and fix learning gaps. For more information, visit http://www.mobymax.com.
ABOUT EDTECH DIGEST AND THE EDTECH AWARDS
EdTech Digest, a leading source of cool tools, interviews, and trends showcasing the future of learning — annually honors the best and brightest people, products and groups working in edtech with The EdTech Awards. Cool Tool, Leadership, and Trendsetter honorees span the K-12, Higher Ed, and Skills & Workforce sectors.
To view the entire list of finalists and winners of the EdTech Digest Awards, visit https://www.edtechdigest.com/2021-finalists-winners/