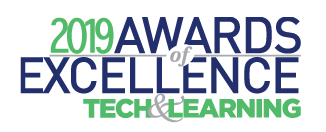 December 11th, 2019 – MobyMax, the most widely acclaimed differentiated learning solution in the U.S., has been named a finalist in three categories for Tech & Learning Magazine's 2019 Awards of Excellence: Best Use of a Product in the Classroom, School, and District, respectively. Now in its 40th year, Tech & Learning's Awards of Excellence program recognizes exceptional products that are improving the way educators work and students learn. MobyMax was the only company to win awards in all three categories.
"For 40 years, Tech & Learning has reported on how edtech products are improving teaching and learning," says Tech & Learning Group Publisher Christine Weiser. "In keeping with this mission, our 2019 Awards of Excellence contest focused on stand-out products that are unique in the K-12 market, as well as those that are helping schools solve specific problems."
"The MobyMax team uniquely understands that, while teachers and students need solutions that work in their individual classroom, the sweeping educational changes we need in the U.S. must happen school-wide and across entire school districts. We're thrilled to see MobyMax recognized for its pursuit of this goal."
Tech & Learning advisors selected finalists in "Best Use of EdTech" in three categories—classroom, school, or district. All finalists will be invited to a special reception at TCEA where the winner for each category will be announced.
"Our advisors spent many hours reviewing the nominations, doing additional research on the products as needed, and applying their expertise as some of the nation's top innovators in the field," said Weiser. "Being selected as a finalist in the refreshed Awards of Excellence is a true stamp of approval that these products are making an impact in the way schools teach and students learn."
About MobyMax
MobyMax helps struggling learners quickly catch up to grade level and closes learning gaps for all students.
Moby Learning, Moby Assessments, Moby Interactive, and Moby Rewards are all award-winning components of MobyMax, creating the most effective solution to find and fix learning gaps.
For more information, visit http://www.mobymax.com.