Program honors stand-out products that improve the way educators work and students learn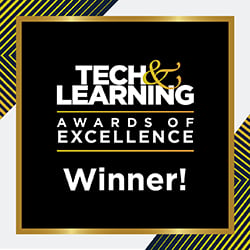 July 13, 2020- MobyMax, the most widely acclaimed differentiated learning solution in the US., has won a record-breaking seven Tech & Learning Awards of Excellence. The awards recognize exceptional products and services in education technology and represent the highest approval rating possible by an evaluation of educators.
MobyMax was recognized as a winner in the following categories:
Software: Curriculum and Instruction Solution

Software: ELL/ESOL Solutions

Software: Reading

Software: Adaptive Learning

Software: Assessment Solutions

Software: Math

Software: Science
This is not the first time Moby has been honored in the Tech & Learning Awards. In 2018, Moby was one of only ten companies in the world selected as a finalist in the
Best Use of Edtech in Schools
category. In 2019, MobyMax was honored with
Awards of Excellence for best use of a product in the classroom, school, and district
and was the only company to win awards in all three categories.
"Teachers and parents are relying on educational technology more than ever before to keep students learning," said MobyMax co-founder Glynn Willett. "These awards aren't just a badge of participation. They're an endorsement that our products and services meet the standards of the most innovative educators working in classrooms today."
"For over 40 years, Tech & Learning has reported on how edtech products are improving teaching and learning -- and this has never been more important than during this unprecedented time," says Tech & Learning Publisher and Content Director Christine Weiser.
"For this year's contest, our judges looked for stand-out products that are helping schools navigate these challenges by solving problems and driving innovation," she said. Judged by tech-savvy educators with first-hand experience of the industry, products were evaluated on the following:
Uniqueness in Market

Helps School's Ability to Solve a Problem

Price value

Suitability for use
The winners will be recognized in the July/August Tech & Learning 2020 digital issue.
About MobyMax
MobyMax helps struggling learners quickly catch up to grade level by finding and fixing missing skills. Differentiated Learning, Quick Checker, Interactive Class, and Real Rewards are all award-winning solutions individually, and when combined in MobyMax, they provide everything a teacher needs to effectively close learning gaps.
For more information, visit http://www.mobymax.com.
About Tech&Learning Awards of Excellence
For over 40 years, Tech & Learning Awards of Excellence have recognized exceptional products and services within Education Technology. The Awards of Excellence celebrate products released or re-released over the last year, as well as their contribution to educators across the country. Learn more about the Tech & Learning awards here.