"A complete cross-curricular product that is
a must for any classroom teacher," notes one judge.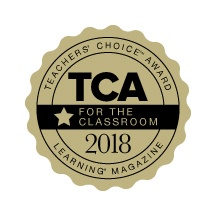 (Sept 6, 2017) – MobyMax, innovator of the award-winning personalized and blended learning curriculum for K-8 students, has won the 2018 Teachers' Choice Award for the Classroom. The award, bestowed by Learning Magazine, recognizes MobyMax for its success in pioneering cutting-edge educational software, compelling digital content, powerful online learning tools, and related technologies that meet the needs of the entire PreK-8 sector.
Teachers' Choice is the only awards program that is exclusively judged by teachers in the classroom. The teachers who judged MobyMax against other companies widely concluded that MobyMax was not only creative and effective but fun and easy to use for teachers and students alike. Its cross-curricular applications, which allow students from grades K to 8 to fill skill gaps in all subjects, were particularly applauded.
"We're gratified that so many teachers and students are benefitting from our products and services," said MobyMax co-founder Glynn Willett. "Recognition from authorities like Learning Magazine inspires us to continue to innovate as we pursue our goal to enable every student everywhere to learn twice as fast."
In addition to the Teachers' Choice Award, MobyMax received the 2017 SIIA CODiE Award for Best PreK/Early Childhood Learning Solution and Best Cloud-Based Solution earlier this year. The company also won EDDIEs from the 2016 Education Software Review (EDDIE), garnering awards in an unprecedented four categories: Best Multi-Subject Website (Early and Upper Elementary), Best Multi-Level Website, and Best Teacher Tools. MobyMax was also a 2017 EdTech Digest Award Finalist for Best Personalized Learning Solution, and Best Special Needs Solution.
The comprehensive curriculum has become one of MobyMax's hallmarks, and that proved to be the case again for Teachers' Choice judges. The cross-curricular nature of MobyMax "allows students from grades K to 8 to learn in any area of the curriculum. Teachers just have to enter their students into the program, and they are all set."
Another judge valued the flexibility MobyMax offers. "Rather than focusing on a single content area, MobyMax provides a variety of activities across content areas, including math, science, social studies, phonics, reading, writing, and test prep."
"We are constantly looking for programs to use during our Response to Intervention time, and MobyMax fits the bill," said yet another teacher/judge. "It has adaptive differentiation and provides diagnostic testing, progress monitoring, assessments, and could help meet IEP goals."
"One of the Educator Effectiveness goals I am pursuing is to have students keep track of and monitor his/her own progress. MobyMax has the capabilities to do this very well. The vocabulary and decoding practice the children experience helps them to improve fluency, which often inhibits comprehension. Learning gaps are filled, and this program is aligned to Common Core and State Standards."
A Teachers' Choice Award from Learning Magazine is a hard-won accolade. For the 2018 Classroom program, 23 winners were chosen based on their evaluation scores from a panel of teachers across the country.
About Learning Magazine Teachers' Choice Awards
For over 20 years, the Learning Magazine Teachers' Choice Awards have heralded the very best in classroom-tested, teacher-recommended products. Each year, a nationwide panel of teacher-judges names the standouts in books, classroom supplies, educational games, websites, and more—everything you need for your classroom. For more information, visit www.learningmagazine.com.
About MobyMax
MobyMax, the nation's leader in personalized learning curriculum for grades K-8, unlocks the power of personalized and blended learning to help students learn twice as fast. The company offers the only complete and comprehensive K-8 curriculum for 28 subjects, including math, reading, phonics, language, vocabulary, spelling, writing, science, social studies, and state test prep.
MobyMax finds and fixes learning gaps to help students increase one full grade level in just 40 hours. MobyMax's comprehensive solution includes diagnostic testing, assessments, progress monitoring, IEPs, student response system, whiteboard activities, and student motivation prizes, badges, and games.
MobyMax envisions a new reality in which every child in every school in every country learns as fast as if they had the best teacher in the world sitting beside them. MobyMax's mission is to create a global, research-powered curriculum that enables every child everywhere to learn twice as fast.
For more information, visit http://www.mobymax.com.
###
Media Contacts:
-Amy Weiss, MobyMax, amy.weiss@mobymax.com, 813-603-4128
-The Education Center Contact: Heather Crews, (336) 851-8251, hcrews@the educationcenter.com