Program honors the "breakthrough" leaders in the most competitive categories of educational technology
June 24, 2020 - MobyMax, the most widely acclaimed differentiated learning solution in the US., was named the Enhanced Curriculum Solution Provider of the Year in the 2020 EdTech Breakthrough Awards.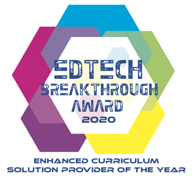 The EdTech Breakthrough Awards recognize the top technology companies, solutions and products in the education industry. The Provider of the Year award recognizes MobyMax's excellence in developing online solutions that truly "Break Through" the crowded market with superior ease of use, innovation, and functionality.
"With online learning starting to dominate education, it's critical that schools tap into the most effective tech solutions available to them," said MobyMax co-founder Glynn Willett. "We hope this award will help teachers and administrators identify the tools that will make the biggest difference to the students they're educating every day."
This is not the first time that MobyMax has earned an EdTech Breakthrough Award. In 2019, MobyMax was honored as the
Best Overall Childhood Education Solution Provider and Best Test Prep Solution Provider of the Year.
Unlike many other awards, for which companies pay a submission fee to ensure their consideration, the EdTech Breakthrough Awards are free and open to all providers. With over 1,750 nominations worldwide in 2020, the competition was fierce, making this particular award so significant.
MobyMax's innovative development platform, comprehensive learning management solutions, and complete curriculum system have propelled the company to earn more education industry awards than any other edtech provider two years in a row.
About MobyMax
MobyMax helps struggling learners quickly catch up to grade level by finding and fixing missing skills. Differentiated Learning, Quick Checker, Interactive Class, and Real Rewards are all award-winning solutions individually, and when combined in MobyMax, they provide everything a teacher needs to effectively close learning gaps.
For more information, visit http://www.mobymax.com.
About EdTech Breakthrough Awards
EdTech Breakthrough is part of the Tech Breakthrough Awards organization, which recognizes the industry leaders in today's hottest categories of technology. Our organization has worked with companies that include Intel, Cisco, Sprint, HP, Comcast, Philips, Dell and many more, providing a public platform for recognition for standout technologies and companies.
For a complete listing of the 2020 EdTech Breakthrough Awards Winners, visit https://edtechbreakthrough.com/2020-winners/
For more information about The EdTech Breakthrough Awards, visit https://edtechbreakthrough.com/