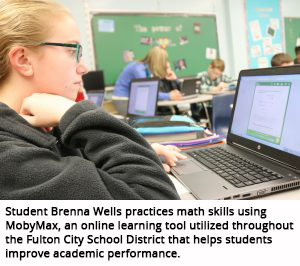 FULTON – Fulton City School District students have used MobyMax, an online learning tool, to make personal gains in mathematics and English language arts.
The fun, interactive learning opportunity is offered to students throughout the district's elementary and junior high schools to help them review skills and become more academically proficient.
Renee Hendrickson, FCSD English language arts coach, said the K-8 program is also beneficial to some G. Ray Bodley High School classrooms because "it seems to reach the gamut" with writing, vocabulary, language, informational reading, literature and mathematical skills.